I know, I'm LATE!! D:

Click here to see all three current Lipton CMs. Clicking on the link, you'll get to see his new one. Next up is number two (the second video on the bottom) and then the first one, right after the "lipton new cm".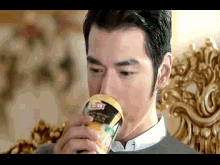 I wanna pinch his cheeks!! ♥

Also, ENTERBAY is releasing a new action figure based on his Samanosuke self from Onimusha 3: Demon Siege (his second incarnation). They say he'll be released this month but so far, he's not ready for sale.







As for "Wu Xia"? He's wearing an invisibility cloak (I SWEAR!!) because, after arriving on-set, there has been nothing. Donnie Yen fans? No problem.